Billy Cart Dash Mania – Central Queensland Today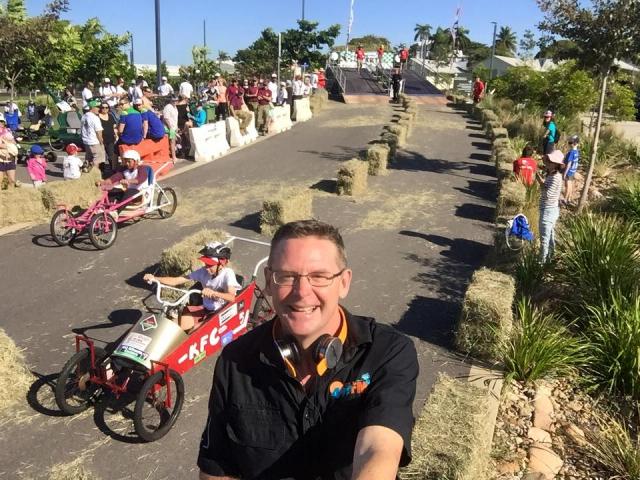 By Trish Bowman
The Rotary Club of Yeppoon and the Rotary Club of the Capricorn Coast have joined forces to organize the first JRT/Rotary Billy Cart Dash (BCD) in Yeppoon, to be held at St Brendan's College on Sunday 11th September.
BCD Committee Chairman Danny Moyle said the contest was split into two parts; with a downhill race where teams will record their best time over four events and an obstacle course for teams to navigate.
"There is a wide range of categories from children, families, sports clubs and corporate organizations, so virtually anyone young or young at heart can put together a team and participate.
"You don't even necessarily have to build your own cart thanks to the kind men at Yeppoon Men's Shed who have volunteered to build three carts for teams to use on the day.
"We are very grateful to the Men's Shed for their involvement and support for this event.
"What we need now is for the teams to sign up.
"Registration closes Friday August 5th and while late registrations will be accommodated, there is no guarantee that your team will get their t-shirts and merchandise if their registration is late.
"We encourage teams to come up with their own theme team, whether it's a Batmobile, the Flintstones or even the Simpsons, as there will be a prize for the best theme team."
Mr Moyle said the clubs are very grateful to their naming rights sponsor, the JRT Group for helping with the main infrastructure for the event as well as GKI Hideaway for providing the major weekend prize. for four at Great Keppel Island for family category winners and our other local businesses who supported the event with prizes and vouchers.
"We couldn't do this without their generosity," he said.
"The day will also feature a range of fun family entertainment, including a
celebrity racing, downhill skateboarding demonstrations, face painting, balloon artists,
craft activities, food and drink stalls and a live outside broadcast by Keppel FM.
The event will begin at 8:30 a.m. and continue until 4 p.m.
Teams pay a small registration fee (see registration form) to participate, with all
fundraising for Rotary-supported charities and Rotary
sponsored Interact clubs and the work of St. Brendan's Eddie's Van.
Register online at https://sites.google.com/site/yeppoonrotary/billy-cart-dash
The categories for the teams are
– Children: 5-9 years old (boys and girls)
– Children: 10-13 years old (boys and girls)
– Children: 14-17 years old (boys and girls)
– Families (must include at least 1 ADULT + 1 CHILD)
– Big Kids (open ladies/men category)
– Schools (primary and secondary)
– Sports clubs
– Company
– Fast food (Maccas vs. KFC vs. Subway, etc.)