Dumpling & Noodle Cart Rolls Out Brick-and-Mortar Carytown Restaurant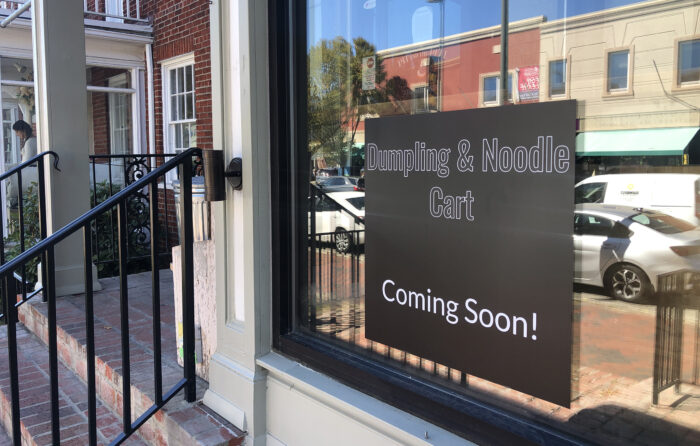 Smoothie bowls and juices are out and dumplings and noodles are in a Carytown display case.
Dumpling & Noodle Cart is gearing up to open at 3321 W. Cary St., a space that until this summer was home to local juice bar The Pit and the Peel.
The new restaurant marks Choega Dhondup's leap from running a food truck to a brick-and-mortar restaurant.
Dhondup first launched its concept in 2018, serving pan-fried pork balls, cold noodle dishes and hot rolls from a food cart near VCU's Monroe Park campus.
"I haven't seen too many dumpling spots, other than a few Thai restaurants," Dhondup said.
Although it's a permanent location, Dhondup said he's keeping "Cart" in the restaurant's name.
"It will be 'Dumpling & Noodle Cart.' A lot of customers know the name, so I don't want to change it," he said.
The menu will remain virtually unchanged, with dumpling dishes ranging from around $3 to $6.
"We could add some vegetable and shrimp dumplings," Dhondup said. He added that the restaurant will have counter service and focus on takeout, with a capacity of around 15 seats.
Dhondup said he plans to open the space in November. He now has two food carts that he said he would continue to operate after the restaurant opens.
Dumpling & Noodle Cart will be the second dumpling-focused restaurant to open locally in recent years, joining Got Dumplings, which expanded from Charlottesville to Richmond last year.
The Pit and the Peel had moved out of the Carytown space in favor of a new location in Westhampton Commons near Libbie and Patterson Avenues.
Craig Brosius, co-owner of The Pit and the Peel, said they had encountered delays in obtaining permits and were now looking to open in the West End development in around two months.