Food cart vendors prepare for the winter season | Company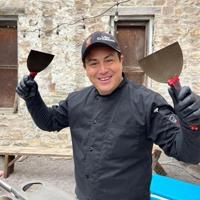 At lunchtime during the ski season, hungry skiers and snowboarders throng the heart of Mountain Village to grab quick bites from an array of food carts where micro-entrepreneurs test family recipes, incubate business ideas and present goods despite the weather. Last month, Mountain Village officials approved permits for six food carts and one service cart to operate at Heritage and Sunset plazas this winter.
"Two years ago we had four food carts and last winter we had five," said Mountain Village community engagement coordinator Molly Norton. "The gyros cart isn't back this season, but pancakes, grilled cheese, Latin Creations and Finnegans are all back. Our two new carts – Lady Bird Baking and La Colombiana – are both women-owned businesses.
Camila Munoz Bayona started La Colombiana because she feels "very connected and grateful to the Mountain Village community" where she has lived for four years. She and two friends "who also like to cook" cook all the food themselves from Ghost Pocket Kitchen. They will be serving Colombian meat, cheese and chicken empanadas, cheese fingers, corn with various toppings and hot chocolate on Sunset Plaza, Monday through Saturday from 8 a.m. to 5 p.m.
"Besides having an entrepreneurial spirit, I'm starting this food cart business because I want to bring some of my food culture to this beautiful place," Bayona said.
Finnegan's cart, operated by Kevin Lawrence, will also operate in Sunset Plaza, offering a variety of charcoal-grilled sandwiches.
The other newcomer to the Mountain Village winter food cart scene is Lady Bird Baking, owned by Heather Crane.
"Lady Bird has been a vendor at our market in the square during the summers, and we are delighted to have them join us for the winter as a full-time vendor," Norton said. "They will offer an early morning option that currently does not exist in the center of the village with pastries to take away."
Bertrand Marchal, who operates MV's oldest food cart – Place des Crêpes – will set up shop in Heritage Plaza for its 21st season.
"Mountain Village has done a great job of making the place very walkable and child friendly and the addition of the gondola cabins is brilliant," he said.
Marchal prepares pancake batter from scratch every morning in his commercial kitchen and three part-time employees operate the cart and cook the pancakes. He believes his pancakes are always the best deal in town and says the sweet pancakes – including Nutella banana and raspberry – are his bestsellers.
Open daily from 11 a.m. to 4 p.m., Marchal looks forward to "the smiles on the children's faces and how pancakes make people happy."
After operating his Latin Creations food cart for a year and a half, Alberto Tames and his wife, Aggie, also return to Heritage Plaza with their cart near the small kitchen where he prepares all of his offerings using family recipes. Specialties include birria – slow-cooked beef with chillies and spices – and its best-selling carne asada. Latin Creations will operate Wednesday through Sunday from 11 a.m. to 3 p.m.
"Thank you for the opportunity to share our love of food in such an amazing place," Tames said.
Scott Jacobs has been operating his grilled cheese cart since 2019 at Elks Park in Telluride during the summer. These days, he only uses his Grilled Cheese & Silver Creek Rico cart on Heritage Plaza during the winter season starting at 11:00 a.m. at 3 p.m. daily.
"The people of Mountain Village are great – tourists, locals – and the town government is extremely helpful," he said.
Jacobs prepares all the food himself and works the cart alone, serving his best-selling classic — the plain yellow grilled cheddar cheese sandwich — and his brie and apricot sandwich to "diehard fans."
"My new Pig Wiggle Sandwich — loaded grilled cheese topped with a half pulled pork sandwich — is also a big favorite," Jacobs added.
The sole service provider – Wax Guru – a ski-in/ski-out, slopeside waxing station, operates on Mountain Village Plaza from 8:30 a.m. to 6:00 p.m. daily, offering hot wax by hand, the edge sharpening and minor base repairs specifically designed for current ski conditions in as little as 15 minutes.
The MV winter sale cart season runs from October 15th to May 14th. The sale is mandatory from the day the ski area opens on November 24 until the ski area closes on April 2. Salespeople must work at least five days a week, four hours a day.
]Meanwhile, in the town of Telluride, two businesses applied for winter vending cart permits last month and both will operate on Oak Street Gondola Plaza this winter. Xan Sanders will oversee a temporary ski storage rack while Bertha Guerrero will operate a Mexican food cart.
"We usually don't have more than one or two vendors in the winter because it's so cold," said Piper Miller, assistant clerk for the town of Telluride. "They always ask for the Gondola Plaza because of the foot traffic."