Jehovah's Witnesses Give Up Door-to-Door, Adds Stationary Cart | New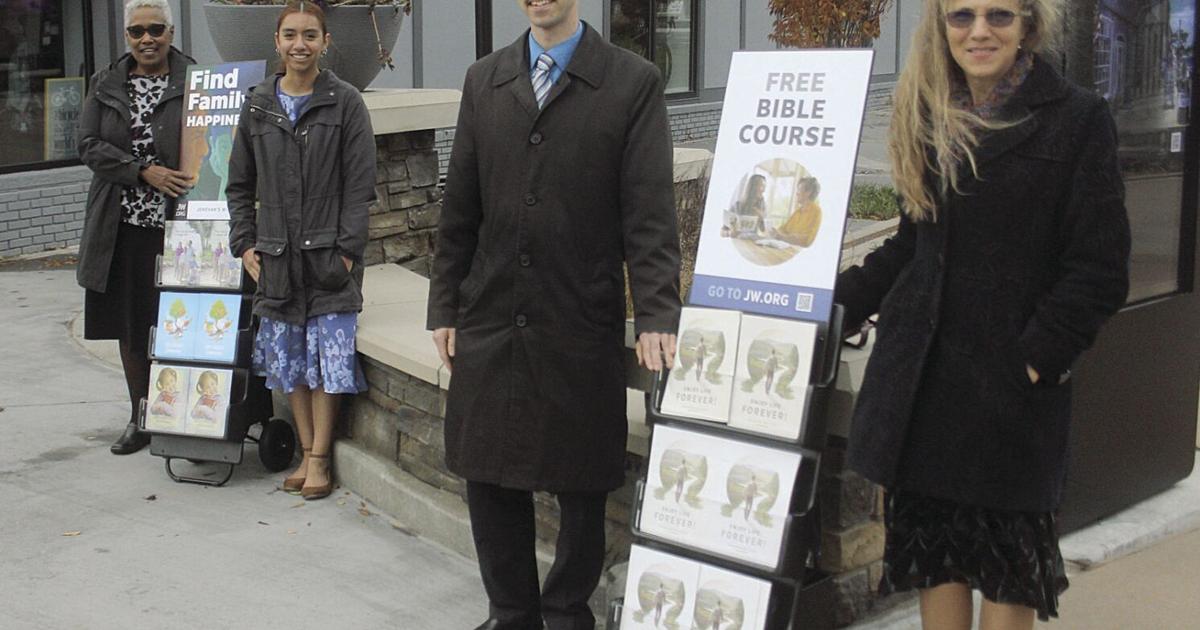 A well-known part of members of local churches of Jehovah's Witnesses is going door-to-door to talk with neighbors about the views of their faith.
In September, however, a new portion of the congregation's missionary work was seen in Ludington, both at Legacy Park and Waterfront Park.
"Like many of us, the 30 months of the real pandemic have been one of the greatest challenges of our lives. He really put life on his ear. I think that's what motivated us to come back there (to testify)," said Matthew Oleman, spokesperson for Johavah's Witnesses.
During these months, the church ceased its door-to-door ministry. Oleman said once again knowledge about the virus, the ability to receive a vaccine if a member chose it, and treatments becoming more widely available, has allowed him to pursue one of the ministries he is known for. .
Oleman said those going door-to-door or returning to in-person meetings were not required to receive a COVID-19 vaccine. He said it was more of a personal decision.
For local devotees, they made it through the pandemic and couldn't wait to be in person.
The year began with congregational meetings via Zoom and outreach by mail, said Justin Van Loon of Ludington. In April, the local congregation began a hybrid of its services between in-person and Zoom. It wasn't until September, however, that they began to return to door-to-door ministry as well as adding the cart to one location.
"It was just refreshing to be able to go out and see people face to face, and go out and see that face and see that smile," Candy Van Loon said. "You know, writing a letter is just a one-way conversation, and you don't know the return of the conversation. It's nice to be with people and also see their smiling faces. People are so happy to be outside and have these good conversations with people.
Custer's Sandy Love-Campbell was thrilled to be able to hang out and catch up with some people she got to know through the ministry.
"When it shut down for me and reopened, I was so excited. A little nervous, you know, I haven't seen that person in so long, and you have people you call regularly too , in neighborhoods. You get attached to the people you visit once a week," Love-Campbell said.
The basket, however, is a big difference. Instead of church members going door to door and meeting people at a time that might be inconvenient for them, having the cart at Legacy Plaza or Waterfront Park allows anyone from tourists to residents to year, to come and ask questions. Of the two locations, Waterfront Park was Love-Campbell's favorite.
"It was the best conservations, right next to the park where the children played and the parents came to talk to us. And we were talking to the kids and seeing them every day," she said. "It was really, really rewarding. It's rewarding to just talk to people.
Members of the congregation range from Love-Campbell in her 60s to Jai Benitez, a 2022 graduate of Manistee High School, and many others. She said she was shy as a child, which made the door-to-door part of their ministry a little more difficult.
She was involved in writing the letter during the pandemic and she said it helped her.
"I actually enjoyed it because more because I like writing," Benitez said. "It allowed me to find things that I couldn't find on the fly just by talking to people. Coming back, it's better now. I'm starting to get used to it.
"The trolley testimonial was really great. Seeing Sandy do what she does is awesome, and I love the way she talks to people.
For church members far and wide like Oleman in New York or local congregants, they were each eager to carry the message of their faith to others.
"People wonder why we knock on doors. The reason is that we love our neighbors," Oleman said. "We consider it a commission. Jesus told his disciples to go preach the good news. We do not come to the door with the coming of misfortune.
Love-Campbell likes to share what she can, from print magazines to directing people to the application of faith.
"Most of the time the joy in my heart is that the good news in the Bible is what I want to share."
Door-to-door ministry will continue through the winter. The trolley, however, will be put away during the winter months and will return next spring.