Kalamazoo Recycling Program Launches Cart-to-Cart Recycling Classes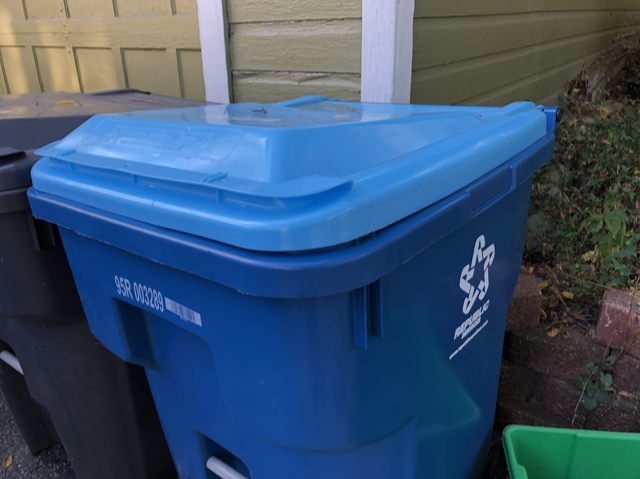 Through a new grant-funded program, the City of Kalamazoo will begin teaching people how to do better recycling, taking to the streets to check residential trash cans one at a time, identifying those who need work on their recycling choice.
Residents who have done a good job, with all items deemed acceptable, will simply have their recycling picked up as usual.
If the inspectors discover any defects, such as materials that are not accepted for recycling, or that are dirty or contaminated, the cart will be tagged with an "Oops tag" after being emptied.
If deficiencies are found a second time, the basket will be marked with a warning and the contents will need to be corrected before collection resumes.
Kalamazoo currently provides a single-stream recycling service to 16,911 households and every Kalamazoo resident is eligible to participate in single-stream recycling – the system that allows residents to dispose of all recycled products in a single cart for curbside pickup. of street.
Each year, around 2,261 tonnes are collected for recycling, but around 10% of this is contaminated and must be landfilled, says utility manager James Baker.
With funding from a $67,644 grant, Kalamazoo has partnered with other agencies and communities to help improve those numbers.
Beginning the third week of September and continuing through the fall across the city, Feet in the Street Cart Tagging workers will check 96-gallon recycling carts placed on the sidewalk for a bi-weekly pickup. Workers will open cart lids before pickup to check contents and leave "oops" tags noting any issues they find.
Baker says common recycling mistakes include putting unaccepted items, such as polystyrene and/or dirty food containers, in the cart. Other items that are not accepted for recycling in Kalamazoo include:
Scrap metal, screws or nails
Glass for cooking and heat-resistant glass (such as Pyrex and mason jars)
Refrigerated and waxed cardboard (orange juice or milk cartons, certain frozen food boxes, etc.)
Used paper towels, tissues or napkins
Plastic grocery bags (you can recycle these at many big box stores)
Any paper or cardboard containing oil or food residue
Glass broken into small pieces
That still leaves a lot of acceptable material, and those items should be loosely placed in containers, Baker says. Acceptable materials include:
Tin, steel and aluminum cans and lids
Clean the foil. Please scoop it up into a ball instead of recycling small pieces.
Plastic bottles (soft drinks, water, etc.)
Food and household bottles and jars (ketchup, laundry detergent, shampoo, etc.)
Plastic pots and lids (yogurt, margarine, etc.)
All plastics labeled #1-7
Glass food jars (pasta sauce, pickles, etc.)
Magazines, newspapers and plastic windowless envelopes
Glitter and Foil Free Wrapping Paper
Paper with staples or paper clips
Cardboard or unrefrigerated cardboard (tissue boxes, cereal boxes, etc.)
All items must be empty, clean and dry; you can leave the labels and lids on the containers.
The "Les pieds dans la rue" program aims to increase the quantity of quality recyclable materials and reduce the quantity of non-recyclable materials in recycling carts. Developed by The Recycling Partnership, this program helps communities implement cost-effective recycling programs, reduces the number of new resources used in packaging by providing more recycled content for new products, and improves community cleanliness.
"Recycling is not only the right thing to do, but also the smart thing to do," says Kalamazoo Mayor David Anderson. "Recycling properly reduces the cost of sending recyclable materials to landfill, supports jobs and improves the health of the environment. We know residents want to recycle the right way and through this campaign, we're providing them with real-time, personalized feedback to make that happen. »
"The Recycling Partnership is excited to continue working with MI EGLE and Michigan communities to improve residential recycling statewide," said Cassandra Ford, community program manager at The Recycling Partnership. "Through this project, we are helping to capture more quality recyclable materials that are then transformed into new materials, as well as creating and supporting jobs, less waste, and stronger, healthier communities."
The partnership has successfully implemented the "Feet on the Street" program in over 70 communities across the country, with some communities seeing up to a 57% decrease in non-recyclable materials in recycling carts and an average increase in 27% of the global capture of quality recyclables.
City residents can learn more about what's acceptable and what's not here.
About Recycling in Kalamazoo
The City of Kalamazoo has offered a recycling program since 1994. The recycling program was expanded and upgraded in 2016 to become a single-stream program. The City of Kalamazoo manages and operates the recycling program through a single contracted vendor, there are no variations in the program, all residents receive the same excellent service.
About the Recycling Partnership
Since 2014, the nonprofit change agent diverted 500 million pounds of new recyclables from landfills, saved 968 million gallons of water, avoided more than 500,000 metric tons of greenhouse gases, and resulted in significant reductions in targeted contamination rates.