Want to drive a golf cart in New Braunfels? Here are the rules to know when swapping fairway for pavement | Community Alert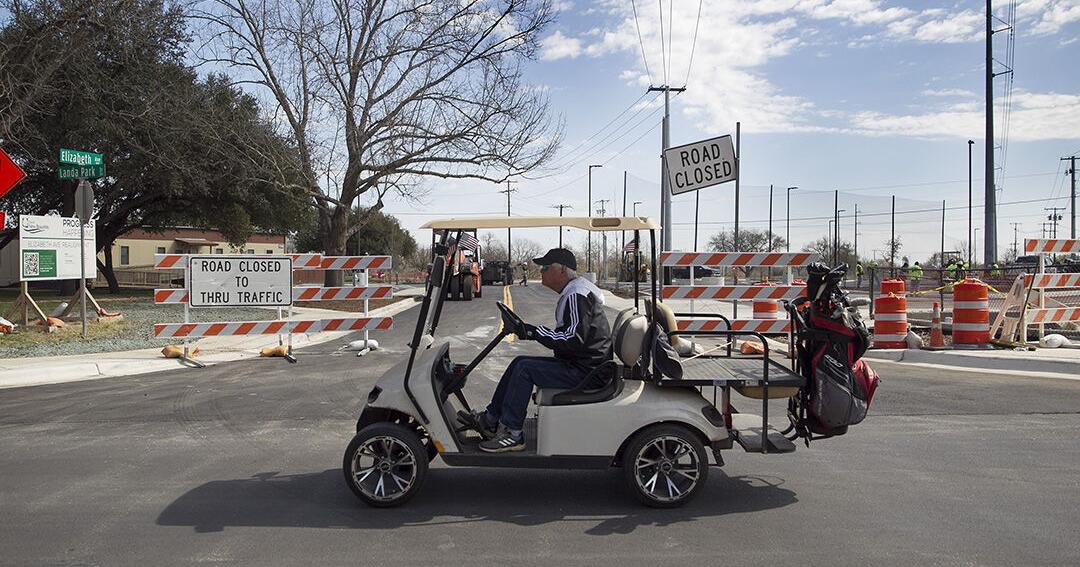 You've probably seen them around town now that warmer weather has returned and tourist season is approaching.
Some visiting tourists and longtime residents of New Braunfels have traded in their cars for something a little more unique to get around certain parts of town – golf carts.
The popularity and demand for recreational vehicles has increased dramatically, and with more of them on the road, the City of New Braunfels is trying to keep everyone up to date on the laws surrounding golf cart safety.
The city encourages cart owners to find out where cart riding is prohibited, such as state highways, farm-to-market roads and streets with speed limits above 35 mph.
"Some of the dangers with golf carts are that they're a slower-moving vehicle, so people have to be a little more careful," said Sean Morgan, owner of Morgan's Oasis Golf Carts. "When you cross a roadway, you're not going to cross the roadway itself as fast as your car would."
Additionally, golf carts are only permitted to be driven during daylight hours and are only supposed to be driven up to two miles from where they are primarily kept.
Golf carts operating in permitted areas must be equipped with both headlights and taillights, side reflectors, mirrors and a parking brake in order to meet safety requirements codified in the Texas Transportation Code and defined in more detail by the city.
If the golf carts are intended to be driven within the city's designated driving zones, license plates, which are available from the Comal County Tax Assessor's Collector's Office, are required. Additionally, all golf carts, no matter where they are driven, must be insured.
Penalties for violating any of these laws in addition to others outlined by the city can include fines ranging from $100 to $500 depending on the violation and any prior violations.
"We encourage any resident or visitor who is considering driving a golf cart or neighborhood vehicle to carefully read the rules and requirements for these vehicles," said New Braunfels Police Chief Keith Lane. "These requirements are for everyone's safety, so be sure to follow the rules and install the appropriate equipment."
However, once people understand and know the rules and regulations around owning or using a golf cart, it can be a fun and exciting way to experience New Braunfels, according to Morgan, golf cart supplier golf.
"A lot of people use it to get around downtown, to the Comal and Guadalupe rivers, Schlitterbahn, Landa Park and they go up Gruene as well," Morgan said. "(People) just enjoy being outdoors and being able to take a day to cruise downtown and not be in a rush and just enjoy the outdoors."
New Braunfels golf cart outfitters have begun to notice an increase in sales of the slow-moving vehicle among locals during COVID-19, with many simply using it around their neighborhood instead of commuting.
"I think (COVID-19) was a great start for the golf cart industry (because) people weren't allowed to go out and see people and they weren't allowed to go anywhere else "Morgan said. "The only thing they could do to get out and be in the fresh air was to take a golf cart and drive through the neighborhood, around downtown and on a cruise."
And according to the golf cart dealer, the demand to rent or own golf carts hasn't stopped or slowed down since.
So has fellow golf cart supplier Ethan Manley, who struggles to keep them in stock. Manley, the owner of New Braunfels Golf Carts, sells the carts before they even arrive at the company's doorstep — and nine out of 10 people who buy them use them for purposes other than golf.
"People see it as benefiting their daily lives," Manley said. "It's between having fun and enjoying the joy of being outdoors and being outdoors. It's just an easy and fun way to hop on the cart (go somewhere in the neighborhood) and then (go back) straight home.
To view the map of Golf Cart Safety Zones or to access a complete list of city rules and regulations regarding the ownership and use of golf carts or other slow-moving vehicles, please visit https://www.nbtexas.org/3229/Golf-Carts-Neighborhood-Vehicles.